Baby Swimming Lessons Brisbane
Our swimming babies program in Brisbane is for children from 3 months to 3 years old bonding with Mum or Dad in the water. Levels are age- and ability-based.
We are strong advocates for children to be swimming before they start school and this begins with a dedicated Swimming Babies program. You can expect lots of songs, activities and games to make learn to swim fun for you and your child. Read More
Parent and Child Program
Babies are able to achieve amazing things in the water.

JUMP!'s carefully designed curriculum uses the best practices from learn to swim programs around the world to maximise their physical development in learning the fundamental aspects of swimming.

In the earlier levels of Ducklings, Ducks and Goldfish, classes are distinguished by age rather than ability. Beyond these levels, ability determines level progression.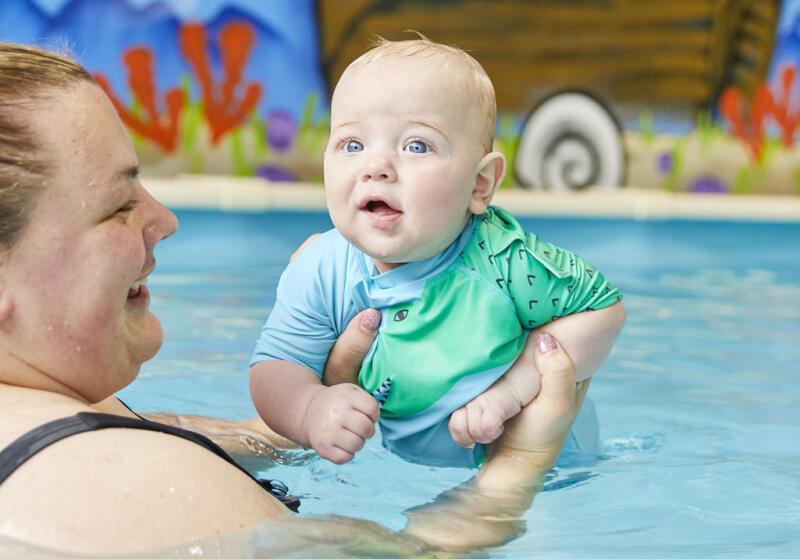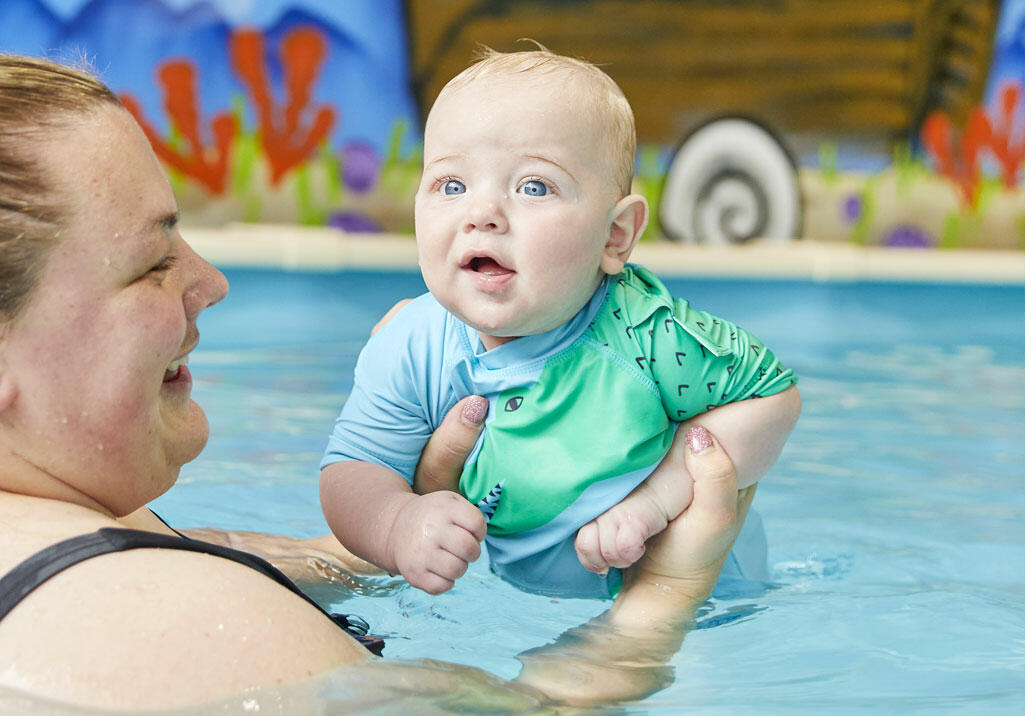 Some of the Best Swimming Classes For Babies in Brisbane
Are you looking for a fun and educational environment to introduce your baby to the water? Then you have come to the right place. Here at JUMP! Swim Schools, we offer intimate classes, heated pools and friendly teachers. Just imagine the smiles and giggles as your baby improves their confidence in and around the water. You'll be there to experience it all.
Offering baby swimming lessons in Brisbane for infants as young as 3 months old, it's never too early to enrol. Not only will your baby learn to feel comfortable in the water, they'll also be able to maximise development by practising their physical, cognitive and social skills.
The Perfect Environment to Bond With Your Baby
Lets be honest, as parents we are always looking for opportunities to bond with our babies. And our swimming classes are perfect. The skin to skin contact and warm temperatures allow your baby to relax and gives reminder of the safety of the womb.
A safe space for them to practice their co-ordination and balance, the pool allows free movement before your baby can crawl or walk. They'll glide through the water with your support, bouncing and splashing along the way. Just imagine the fun and laughter that you'll share!
Swimming is a Fundamental Life Skill for Your Baby
When living near the Australian coast, it would be nearly impossible to avoid water. From the South Bank lagoon to the countless nearby beaches, there are endless swimming opportunities. It's inevitable that your baby will be in and around the water as they grow up so learning water safety and key skills from a young age is essential.
Our swimming lessons for babies in Brisbane teach your infant to feel confident in the water, to feel contentment with submergence and to hold their breath on command as well as basic swimming skills. That's right, by the time your baby reaches 3 years old, they will have mastered all of these skills and more. And as your baby grows older and their abilities improve, rest assured that our services do not stop. We offer a variety of classes that cater to all ages and all abilities. Teaching independent swimming and stroke development, their journey with us will continue well into childhood.
Our philosophy of Prepare, Instruct, Praise allows us to achieve real results for all of our pupils. We teach water conditioning and promote confidence in the water, demonstrate movements to help develop skills and praise every attempt whether successful or not to improve self-belief.
Complete Our Online Enquiry Form to Get Started With Baby Swimming Lessons in Brisbane
Do you want to learn more about our options for you (adult swimming lessons in Brisbane) and your baby? Ensure that your baby develops essential swimming skills by enrolling in our swimming classes for babies in Brisbane. Complete our online form to get started and a member of our friendly team will be in touch. We look forward to welcoming you and your baby into our swim community soon. Read Less