Swim School Franchise Opportunities
in Victoria
with Australia's #1 swim school provider
There has never been a better time to become a JUMP! Franchise owner
JUMP! Swim Schools was founded with a simple goal: to create the perfect environment for children to learn to swim.
At JUMP! we proudly focus on having a great boutique learning facility with a maximum of only two small classes at once, as well as a real community feel.
This is the way learn to swim should be — small, intimate and private so that every child feels safe and at home as we join them on their swimming journey. Read More
Bring Your Passion To A Swimming School Franchise In Australia!
For many, the meaning of success is being able to combine a passion, public service and enough flexibility to accommodate your personal life. Here at Jump! Swim Schools, we believe, have the perfect balance of all three. Not only is running your own franchise a brilliant way of building up your own business, but our schools provide a vital opportunity for kids to learn about water safety and enjoyment! As a premier network of
Australia's swimming school franchises
, we've helped thousands of kids to learn how to swim. We support our award-winning franchise holders with their training and development and offer a simple but effective business plan to help you create a nurturing and rewarding
swim school
in your area. If you love swimming and want to offer an essential service to your community, then please read on!
The Ultimate Family Friendly Franchise Opportunity
Our idea of the perfect
kids friendly franchise
holder starts with someone who is both personable and passionate about fitness. You'll love working with kids and take immense enjoyment in seeing them succeed. You'll know the importance of health and safety and embrace fitness in your own personal life. You'll have a strong sense of fun and enjoyment without forgetting your responsibilities to provide a safe and comfortable working environment. You'll be ready to expect the unexpected and have the confidence and knowledge to support all your learners achieve their goals safely. Above all, you'll be keen to cultivate a healthy attitude to water safety with your learners, and you'll draw from a huge wealth of experience and support from the
best swim school franchise
network in Australia.
How We Support Your Swim School Franchise
As a franchise owner, you'll get all the benefits of working on your own terms, but with the added support and business foundation that only a leading
swimming franchise
can provide. These include:
Personal independence - You can work on your own terms at your own pace and bring in a secure income that suits your purposes.
Time off whenever you need it.
A tried and tested business model that will maximise your profits.
A lifestyle that supports your personal requirements as well as those of the business.
Whether you've run a business before or if this is your first time, we'll always be on hand to help you get going. We'll give you the resources you need to recruit and train your own team, including training by AUSTSWIM, the national industry standard for swimming and water safety.
Once you've got your business up and running, you'll use a business plan that has been proven time and again to yield great results from your learners. A typical Jump! swim school franchise in Australia will feature:
Boutique, bespoke facilities to help focus learning
Small classes of only 4-6 students
We operate indoor swimming pool franchises to make it more private and intimate
Find Out More About Swim School Franchise Today
If you want to get an idea of what it's like for a franchise owner, take a look at the testimonials on our
swim school franchise opportunities
pages. You'll see just how rewarding it can be. Then when you are ready, or you just want to learn a bit more about our opportunities, fill in our enquiry form, and we'll start working on your options for a
swim school franchise
!
Read Less


JUMP! Swim Schools offers a business model that is financially viable, simple and secure
Ideal work-life balance.

Work as much or as little as you want with a secure income.

Make your own hours.

Take time off without worrying about income.

Highly profitable business model.

Many new franchises open with enough numbers to break even.

Family friendly lifestyle.

With our business model you have the time to pick your kids up from school!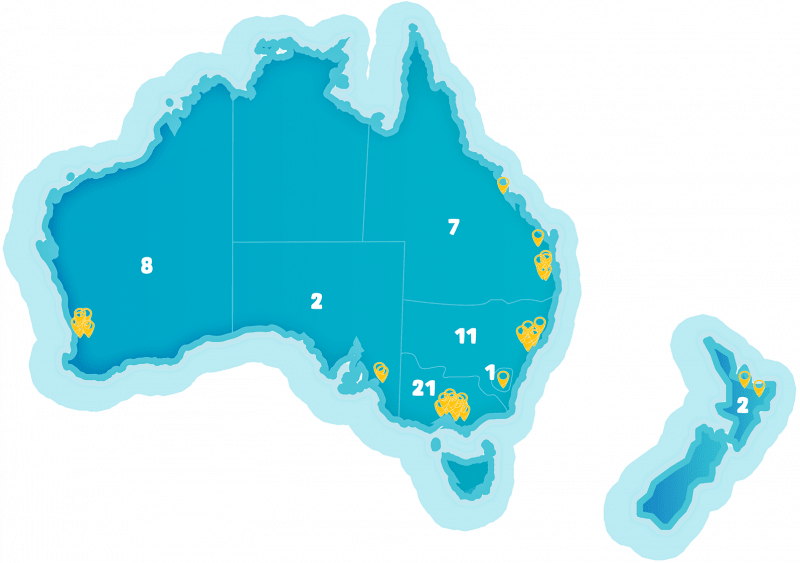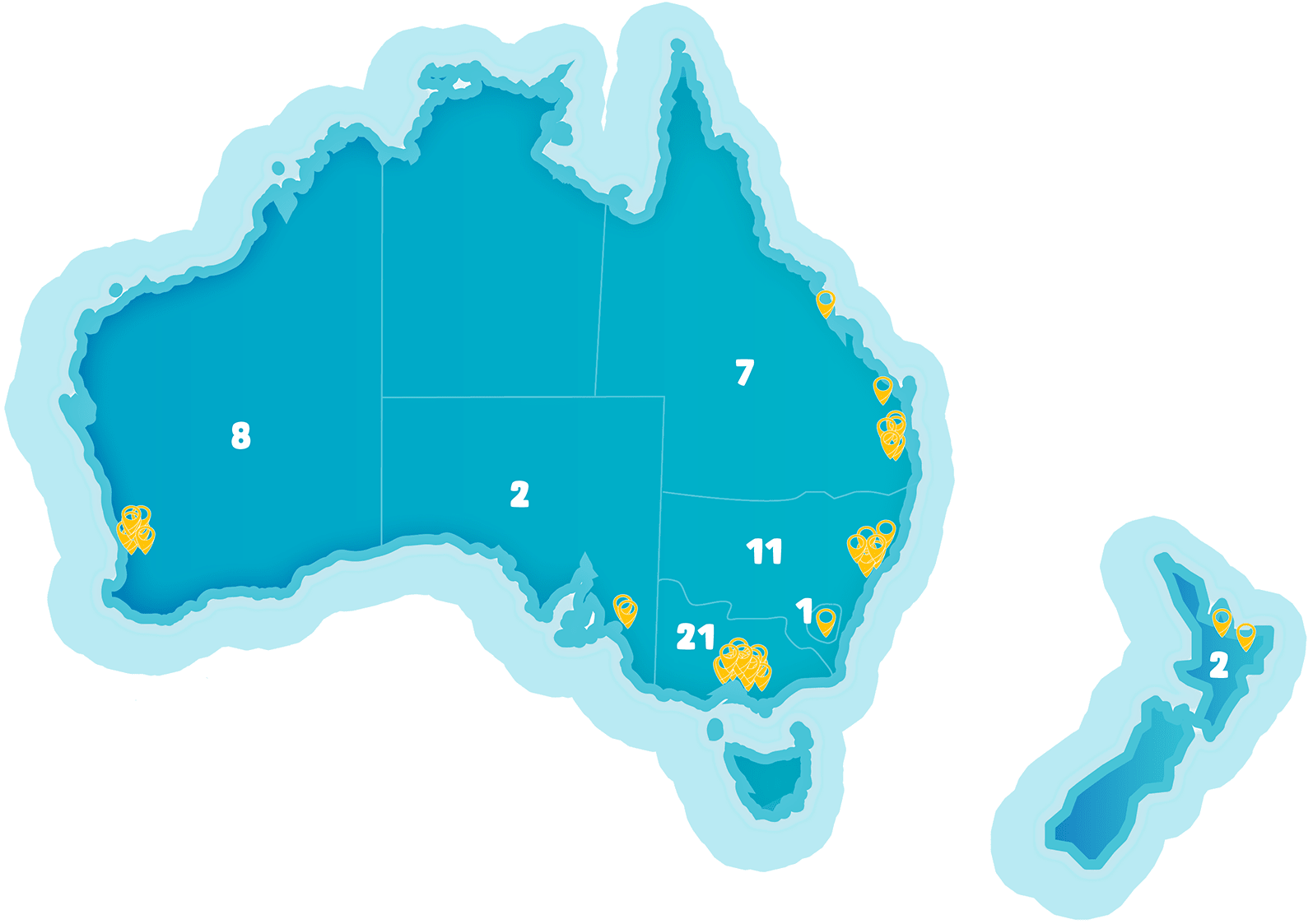 YOU'LL BE IN GREAT COMPANY
Over 50 swim schools in Australia and New Zealand.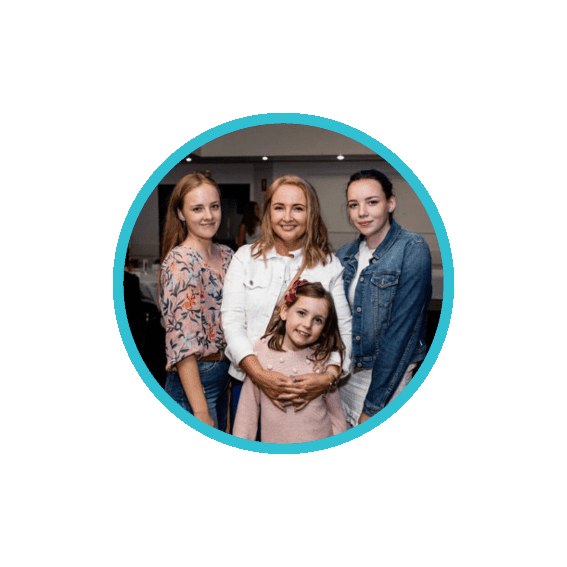 "Having 3 children ourselves, we know how important it is to teach your kids to swim and be part of an industry that will help kids survive in the water. JUMP! is pretty special. Being a small swim school, it feels less intimidating for parents as well as kids and we were drawn to that immediately." – Joanne, JUMP! Clarkson franchisee
About the Belgravia Group
When you join the JUMP! franchise network, you'll be a part of Belgravia Group: a private group of health, leisure, tourism, property, finance and technology companies with more than 200 locations and 7,000 employees Australia-wide. We have over 20 years' experience in franchising and creating active, healthy communities.
Our franchise portfolio includes Genesis Health + Fitness, Coaching Zone Group Personal Training, Ninja Parc Indoor Obstacle Course and BK's Gym and Swim. Belgravia Group supports more than 100 franchise locations across the country.
We're here to help you along your franchising journey, ensuring systems are in operation and functioning to full capability so you and your members can benefit from your hard work.